The Burning Man is an event held every year in the Nevada desert approximately 100 miles north of Reno. It's a festival of sorts that incorporates art, dance, music and community to create a wacky, alternative week-long event where those who wish to leave the drudgery of their 'normal' lives can meet, tune in and drop out.
Tickets for the Burning Man are like gold dust. Numbers are restricted to about 70,000, and revellers enter the desert and a new existence where norms are denounced and stripped away to free the person inside the shell built by the machine.
First held on Baker Beach in San Francisco (it would have to be San Fran now, wouldn't it…) in 1986 by Larry Harvey and Jerry James, the event has grown rapidly and moved to the wider expanse of the Black Rock desert, where the weird and wonderful are to be expected. It could be described as Steampunk meets Mad Max.
Running traditionally from the last Sunday in August to the first Monday in September (US Labor Day), Burning Man attracts devotees from across the planet, then known as Burners, who ask not why, but why not? The Burning Man is guided by 10 principles:
Radical inclusion
Gifting
Decommodification
Radical self-reliance
Radical self-expression
Communal effort
Civic responsibility
Leaving no trace
Participation
Immediacy
Each year the Burning Man has a theme, and an associated temple. There is also always a giant statue of a male figure which is set alight during festivities, hence the event name. The temple is also burned down. This year, 2019, the Temple of Direction will be torched. No one is sure which way that will go. There are also various artworks and installations, many of which are interactive. The entire endeavour is described as a cultural event by the organisers, a non-profit organisation titled Decommodification LLC, which licences its property rights to the Burning Man Project.
The site itself is structured along the lines of an urban area, called Black Rock City, which is roughly in the shape of a horseshoe. There are further demarcations of camps and villages, each with names to help with ease of movement through the city.
Of late, the event has become popular with billionaires, celebrities and the financial elite, especially those from Silicon Valley and Hollywood, with Elon Musk describing it as 'The Silicon Valley'.
Other attractions from the event are a smorgasbord of mutant vehicles, decorated bikes and trikes, and performers of every kind. There is also a heavy focus on rave and dance music.
In a world of increasingly small pigeon holes, there is little doubt that the Burning Man is currently a demonstration of the desire for freedom that lives in us all. The lucky Bohemian few who get to attend and worship at the Altar of Alternate may well be the torch-bearers for a species. Or they may simply be those who enjoy a really good f**king time. You decide. And if you go, make us jealous, let us know.
The following is a short documentary of what takes place at The Burning Man. If this voyage into the desert city of Black Rock of the Approachables doesn't float your boat, then perhaps nothing will…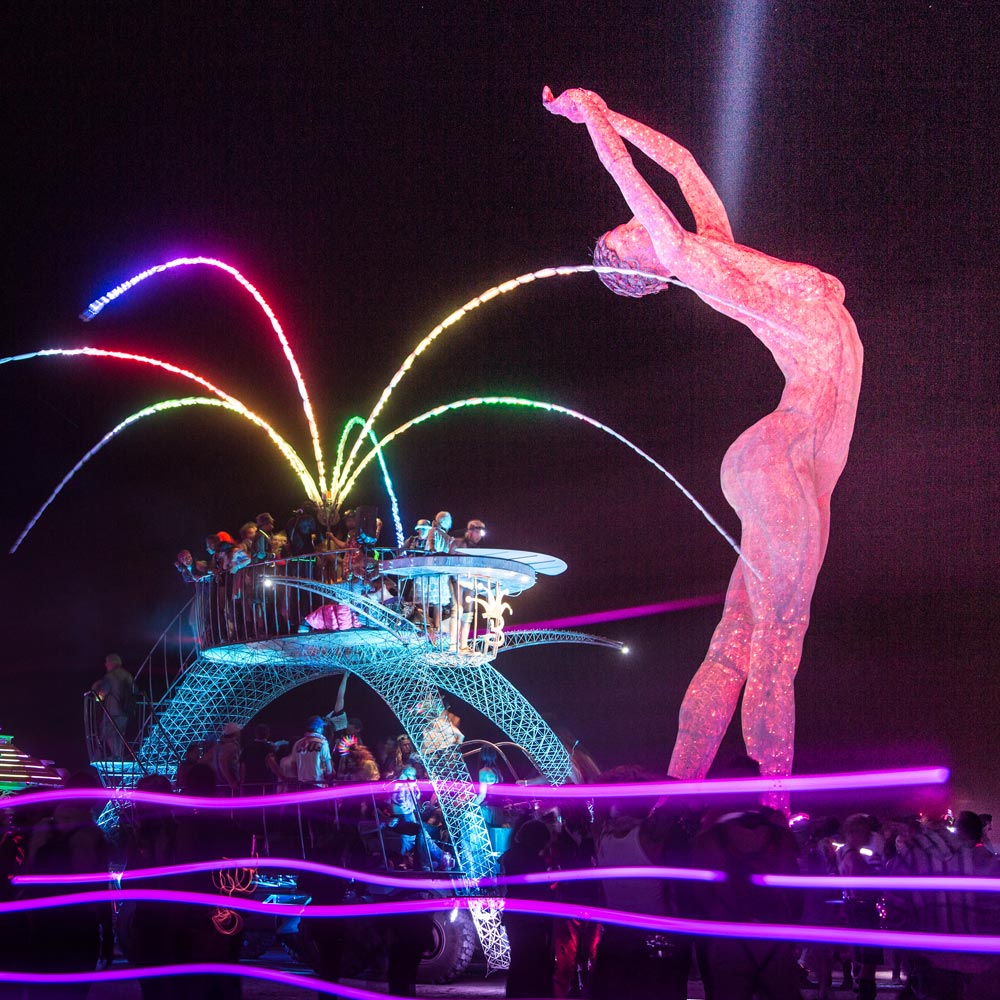 Enjoyed this? Why not share (or gift as they say at The Burning Man)?