This edition of the popular Rebel Voice series casts a cold eye upon those notable Western performers and actors who have supported Israel by their visits to that particular part of Palestine. Some have also performed there, whilst a few have been spotted hob-nobbing with known war criminals from the Israeli regime.
This list is not complete.
Britney Spears. Spears performed in Tel Aviv on July 3rd, 2017.
Radiohead. The popular British band, including lead vocalist and consummate wanker, Thom Yorke, performed in Tel Aviv, 19th July, 2017.
Justin Bieber. This particular Canadian performed in Tel Aviv on May 3rd, 2017. It is not known if Bieber could point out the location of Israel on a map.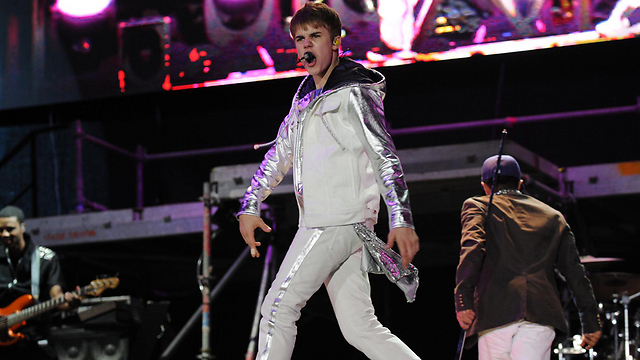 Madonna. The Material Girl performed in Tel Aviv on May 31st, 2012. She stated that her show was meant to be in aid of peace. The ticket revenue was $4,339,876. That's a nice piece of cash for the Zionist from New York. She had already played there on two dates in 2009.
(in this photo we can see how Madonna reaches out to the oppressed people of Palestine)
Rolling Stones. The aging Brit rockers played Tel Aviv on 4th June, 2014. Rumours are circulating that Jagger wishes to give Methuselah a run for his money.
Justin Timberlake. The former boy band member who was once the beau of Britney Spears, decided to endorse Israel on 28th May, 2014.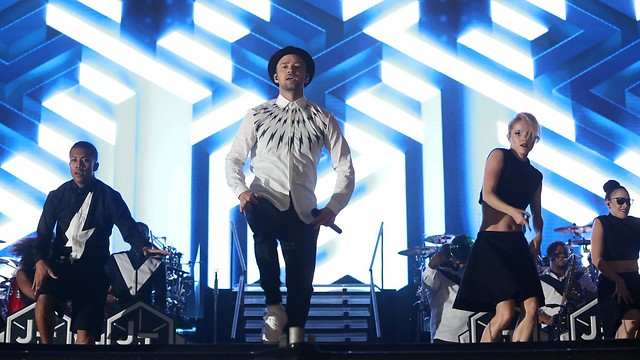 Deep Purple. This particular English rock group returned to play their sixth concert in Israel on May 22nd, 2016. Many of their Israeli fans are immigrants from Russian-speaking countries where they are traditionally popular. Deep Purple's success in Israel is therefore indicative of the vast levels of emigration from the collapsing Soviet Union to the Zionist state. They are the ultimate Zionist band.
Cyndi Lauper. This ill-conceived pop diva played in Tel Aviv on January 4th, 2014.
Foreigner. The elderly Brit-US soft rock band played Israel in March 2014 with two dates in June 2016. They decided to play again on December 2nd, 2017.  Rebel Voice will now boke every time Foreigner comes on the radio.
Tom Jones.  The creaky Welsh crooner has performed a number of times in the oppressive Zionist state; 1997; 2013; and on June 28th, 2017. Rebel Voice wonders how many pairs of stolen Palestinian knickers Zionists in the crowd threw at the 79-year-old former hip-swinger. Jones is of the opinion that artists should ignore the BDS call to boycott Apartheid Israel. Note: Tom Jones is older than Israel.
Rihanna. Performed in Israel in 2010 and October 2013. Rihanna was caught in a controversy when she posted a pro-Palestinian tweet in 2014. She was berated by Zionists and eventually caved in to the pressure, removing the justified tweet.
Bryan Adams. The Canadian singer-songwriter performed December, in Tel Aviv, on both the 4th and 6th. Given the publicity surrounding Israel and its Apartheid policies, there can be no excuse for Adams in ignoring the mass of evidence that condemns the Zionist state. He is endorsing the behaviour of Israel by playing there. Perhaps for some, money is a powerful master.
Morrissey. The loud-mouthed Hiberno-Brit has played Israel on more than one occasion. The following video is taken from his visit to the oppressive state in 2012 (note his disgraceful flag waving) during which he was awarded the key to Tel Aviv. There are thousands of Palestinians who also have keys, to their homes in Israel. Sadly, those homes were stolen from them by the Israelis that Morrissey seems so fond of. Morrissey is yet another of those who misguided twats who consider animal life to be more relevant than Palestinian life.  He also performed more recently in August 2016 during two dates.
Backstreet Boys. This US manufactured pop band played 3 dates in Israel during May 2015.
Aerosmith. Tyler and co performed in Israel in 1994, and it was May 17th, 2017 that they returned to endorse the Apartheid state. This photo shows some very sick and sad individuals.
The Pixies. This Boston band, who were once a firm favourite of Rebel Voice, were booked to play in Israel in 2014 but cancelled due to the Israeli slaughter in Gaza at that time. Their cancellation was not in protest at the conduct of the Israeli regime. They did eventually manage to reschedule and played on 25th July 2017. Rebel Voice will now remove The Pixies from the Rebel Voice playlist.
Guns n' Roses. This one was a kick in the nuts for Rebel Voice. Although Axel Rose has long been regarded as a wanker, there was no doubt about the quality of their music. And of course Slash was always cool as f**k. But no more. Now G n' R are little more than mercenaries for the dishonourable cause of Zionism.  They played Tel Aviv on July 15th 2017. They should have known better.
There are many others who either do not care about the suffering of the people of Palestine, or who are more easily swayed by the promise of large sums of Israeli money. It appears that the shekel buys a lot of blinkers in the Entertainment Industry. All who have performed in Israel without remorse or apology or change of view are endorsing the bloody policies of the Israeli regime.
Some others are:
Rod Stewart… Tears for Fears… Nick Cave… Alice Cooper… Ace of Base… Vanessa Mae… Paul Young… Fatboy Slim… Paul McCartney… Riverdance… Lady Gaga… Placebo… Metallica… Ziggy Marley… Red Hot Chili Peppers… Mark Ronson… Alicia Keys… Depeche Mode… LCD Soundsystem… Bon Jovi… Mariah Carey and, of course, the obnoxious Elton John.
Take That endorsed the Zionist state when they played there on 27th November, 2017.
Boycott all who endorse Apartheid when they perform in Israel
Care about this? Why not share?