His next movie is due for release, so this is a timely reminder to Boycott.
Rebel Voice
Seth Aaron Rogen is a Canadian actor who has an impressive body of films behind him. Rogen has appeared in blockbusters such as, The 40 Year Old Virgin, Knocked Up, Superbad, Pineapple Express, The Green Hornet, The Guilt Trip and Steve Jobs.
Celebrities such as Rogen carry enormous weight both within Hollywood and in the public domain. Fans are influenced by what their 'heroes' say and by the causes that they espouse. Rebel Voice feels that it is unfortunate, then, when the likes of Seth Rogen comes out strongly in defence of the rogue state of Israel.
Rogen's parents, Sandy and Mark, met on a kibbutz in Israel. Their son, Seth, attended the Habonim Dror Zionist Youth movement's summer camp in Vancouver, and enjoyed his time there so much that he appeared in a promotional video for the Canadian camp in 2009.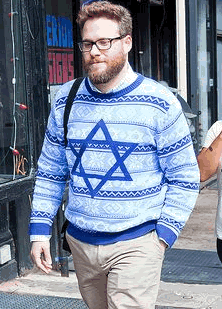 It was on 23rd August, 2014, before the…
View original post 545 more words