Amy Pascal was Co-Chairperson of Sony Pictures Entertainment from 2006 until 2015, when the Sony hacking scandal exposed a number of sensitive emails attributed to her. She is no longer with the major corporation.
She was born on March 25th, 1958 in Los Angeles, and got her introduction to Hollywood as a secretary for Kestrel (an independent production company), before moving on to become vice-President of Production at 20th Century Fox.
As an ardent Zionist, Pascal has been at the heart of pro-Israeli movements in the movie and entertainment industry. She was signed up to regular email updates from a right-wing pressure group called The Israel Project, which covered the security situation in the rogue Zionist state. The Israel Project was once described by Jewish Daily Forward as a group which, 'Stokes Fear of Islam for Political Profit.'
Even the (more liberal) pro-Israeli organisation, J-Street, has criticized the positioning of The Israeli Project for its taking of a pro-settler stance. Some of Paschal's received emails revealed such subject lines as, 'Protect Israel from a Nuclear Iran', 'Hamas Agrees to Ceasefire then Breaks It, Again' and 'Fighting Anti-Israeli Hate'. Many of the emails, often sent daily, included requests for financial donations.
(Paschal with Woody Harrelson and Rosario Dawson)
It was at this time that Pascal received an email from the Anti-Defamation league (ADL), which is an organisation known for its strongly pro-Israeli position and close links to the Israeli government. In it, Pascal was thanked for being one of 18 entertainment executives who displayed their names in an ADL ad shown in The Jewish Journal, Variety and The Hollywood Reporter.
The ad quoted from a 1957 statement made by Golda Meir which was, 'We can forgive them [the Palestinians] for killing our children. We cannot forgive them for forcing us to kill their children. We will only have peace with them when they love their children more than they hate us.' The ad was prefaced with additional commentary, 'As talk turns to the future of Gaza, these haunting words of Golda Meir are as current as today's headlines. She could have been talking about Hamas.'
(Pascal with Jennifer Aniston)
Yet another leaked email showed that Pascal received and responded to entreaties from a group called Creative Community For Peace (CCFP) which is described thus, 'a group of influential music execs… which battles the BDS movement… which tries to stop artists performing in Israel'. The group reminded Pascal that they had taken both her and her husband to Israel in 2007. CCFP is a strongly Zionist organization.
"At that time," wrote David Lonner (also part of the Know Your Zionist Enemy series, by Rebel Voice), a top Hollywood executive and Advisory Board Member for CCFP, 'the war with Hezbollah had just ended and our community had exhibited a great deal of apathy and some ignorance on what Israel was up against.' Lonner added: 'My hope in the end, was that if there was another crisis, we would not be silent. 7 years have passed since our trip and tragically we are in another crisis with Hamas.'
Lonner also claimed that CCFP had worked with Rihanna, Paul McCartney and Alicia Keys when international pressure nearly prevented them from playing concerts in Israel. The email went on to ask for both Pascal's and her husband's signatures on another appeal, this time to 'support Israel' during the Toronto Film Festival. Pascal replied to the email, 'Count on both us.' [sic]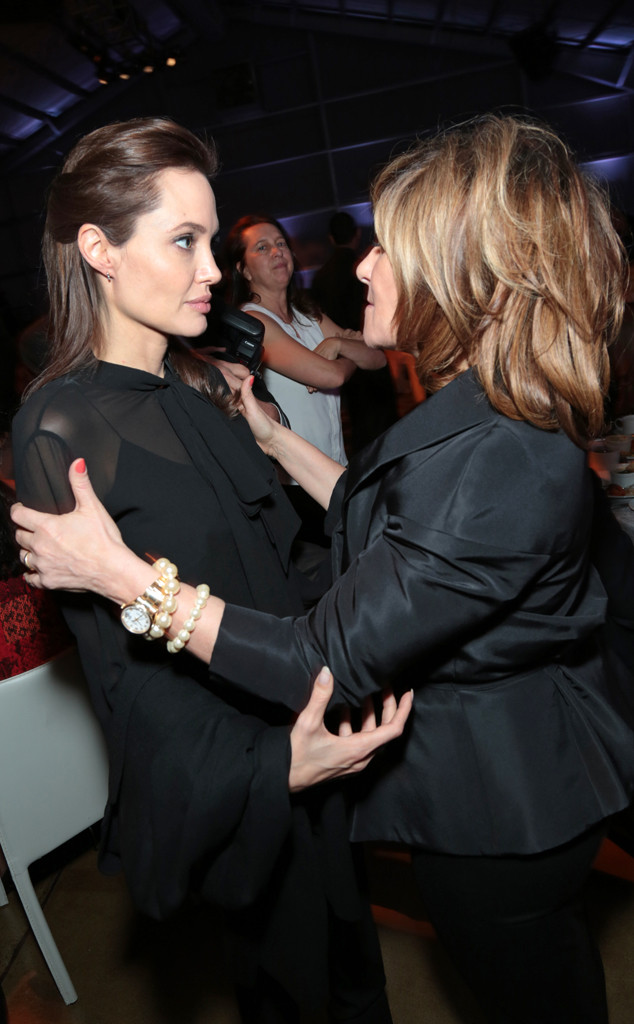 (Amy Pascal was infamous for having made offensive remarks about Angelina Jolie, revealed in the hacked emails. Here she meets Jolie for the first since the public revelations. It does seem as if Angie is braced to deliver a head-butt)
(Pascal with the well known Zionist, Adam Sandler)
Pascal and her husband Bernard Weintraub also received personal invitations to a private event in September last year with the Israeli Consul-General, according to another email in the leaked archive. Held at the home of media lawyer and marketing tycoon Michael Kassan, the event was billed as 'A Special Briefing on the Situation in Israel by David Siegel, Consul General of Israel in Los Angeles, and Jay Sanderson, President and CEO of The Jewish Federation of Greater Los Angeles.'
(Pascal with George Clooney)
(Pascal and Jolie in better times)
(with Denzel Washington)
Amy Pascal, having left (or been fired) from Sony, started her own film production company called Pascal Pictures. This organisation has already made an impact in Hollywood with a list of its upcoming movies to follow, along with their stage of development and scheduled release date;
Spider-Man: Homecoming 2  –  In Development –  July 5th, 2019
The Girl In The Spider's Web –  Pre-Production –  October 2018
The Post  –  Post-Production –  December 22nd, 2017
Molly's Game  –  Completed –  November 22nd, 2017
All Our Wrong Todays –  Development –  To Be Announced (TBA)
Athena –  Development –  TBA
Beneath a Scarlet Sky –  Development –  TBA
Crash Override –  Development –  TBA
Endurance: My Year In Space –  Development –  TBA
Hello Sunshine –  Development –  TBA
Maestra –  Development –  TBA
Princesses –  Development –  TBA
The Perfect Mother –  Development –  TBA
As you can see, Amy Pascal has not suffered for her email indiscretions. She has acquired the funds and support necessary to storm forward in the cut-throat industry of Hollywood. She has produced the latest Ghostbusters (2016) movie as well as the latest Spiderman: Homecoming (2017) flick. She is a serious player in the entertainment industry. She is a serious Zionist.
(Pascal with Matt Damon. Rebel Voice wonders how he likes those apples…)
(Pascal with Will Smith and Michael Lynton)
As of 2014, Amy Pascal was ranked 28th most powerful woman in the world by Forbes, up from 36th in 2013.
(Amy Pascal with Jodie Foster)
As Israel was bombarding Gaza with artillery and missiles in 2014, during an onslaught in which more than 1600 civilians died, including 183 children 5 years old or younger, Zionists in Hollywood were preparing a petition to protest against Hamas and, in doing so, distract from the horrific actions of the rogue Zionist state. Pascal was one of those 200 movie industry power-players who signed that discredited petition. She is not known to have criticized Israel for its slaughter of those innocent residents of Gaza.
(Amy Pascal with Natalie Portman who is Israeli)
It can be seen from the photos shown that Amy Pascal is well connected throughout Hollywood and the wider entertainment industry. She has spent a lifetime cultivating contacts and friendships. Her influence continues today as she takes responsibility for the production of numerous major motion pictures.
Amy Pascal is symptomatic of the great malaise that afflicts Hollywood. She is an ardent Zionist who gives seemingly unequivocal support for the Zionist regime of Israel. In doing so, Pascal has set herself up as part of the Zionist regime that controls Hollywood.
This fanatical cabal of pro-Israeli activists are using the entertainment industry as a centre for the dissemination of Zionist propaganda and promotion of the Zionist supremacist ideology. Such tactics must be countered.
The most effective means of fighting back against the Zionists of Hollywood is to boycott their productions. Hurt them where it matters. Hit them in their pockets.
The list above is by no means exhaustive of the movies currently being produced by those who would see Palestine disappear as it is entirely colonized by land thieves and squatters, all excused by Hollywood executives, producers, writers and actors.
When pro-Palestinians begin to fully exercise their muscles by boycotting such productions as Spiderman: Homecoming 2 , then we shall see a change for the better within the entertainment industry. It will be all the better also for Palestine, and her long suffering people, when that happens.
Boycott Now
Please share widely so that we can move to protect children like this little one:
If you care about this issue, please tell others