Black Mass by Dick Lehr and Gerard O'Neill
The story of Whitey Bulger is one that has captured the imagination of the movie industry in a big way over the years. Films such as Black Mass (based on this novel) and The Departed have either directly or indirectly used the story as their plot-lines, and for very good reason. The truth about Whitey Bulger and his life is made for the big screen.
James Joseph 'Whitey' Bulger was born in south Boston in 1929 to an impoverished Irish-American family. He grew up hard and fast becoming a solid criminal early in his teens. He spent time in Alcatraz before being moved to various federal penitentiaries. Upon his release, he tried to go straight before giving it up and returning whole-heartedly to a life of crime.
He became an enforcer for Boston Irish mobster, Donald Killeen. When Killeen was shot dead, allegedly set up by Bulger, Whitey moved to join the Winter Hill gang – yet another Irish-American outfit with city-wide pretensions. It was there that he met Stevie Flemmi, a ruthless killer who was to play such a major role in Bulger's future rise to the top of the Boston underworld.
When Howie Winter, head of the Winter Hill gang was arrested and imprisoned, Bulger assumed the mantle of group leader. He took the gang from a tough but unimaginative criminal enterprise to the most powerful in the Boston area. But it wasn't Bulger's penchant for killing alone that took him to the top. It was an incident that occurred in a car park in 1975.
John Connolly was a young boy in Southie when Whitey was something of a legend for the lads there. Connolly admired Whitey and idolised his slightly younger brother, William Bulger, who was to go on to become the longest-serving President of the Massachusetts State Senate. It was Connolly's childhood allegiances and influences that were to shape all that took place from 1975 on. It was at that time that John Connolly, then a young and ambitious FBI agent, met with Whitey Bulger to recruit him as an informant.
The relationship between the two men from Southie was to form the bedrock of an enterprise that kept Whitey free from prosecution, and assisted in his meteoric rise to become King of Boston crime. Connolly was ostensibly using Bulger and Flemmi (Flemmi was an FBI informant before Bulger) to gather information about the Boston Italian Mob, then the primary focus for the FBI. Flemmi, as an Italian, had access to the Mafia who wished to recruit him. However, Flemmi refused, but maintained close ties to La Cosa Nostra. He used these contacts to help the FBI arrest many senior members of the Patriarca crime family.
Connolly was lauded for his successes against the Italians. His influence within the Boston office of the FBI was substantial and he managed to coerce other FBI agents into covering for Bulger and Flemmi. When other agencies, such as the DEA or State Police, set up surveillance or traps to catch Bulger and his cronies, members of the FBI tipped them off. In this way, Bulger et al avoided serious charges for almost twenty years. During that time, they killed many people, not all involved in crime. Whitey Bulger also oversaw the taxing of drug dealers in sharp contrast to his public image of defender of the people of Southie from the scourge of drugs.
Those outside of the Boston FBI were scratching their heads at the way in which Bulger repeatedly defied all attempts to arrest him. It appeared as if he was untouchable. Bulger seemed unconcerned that the Italian Mafia would find out about his role as rat. He felt that there was no way the Mob would believe that he was working with the FBI. In point of fact, over the years Bulger gradually managed to turn the relationship that he had with the FBI on its head. By the time that the forces of law and order, that were determined to catch him, proved too strong, he had effectively taken the lead and was using the FBI for protection, having bribed and bought a number of agents. It was a remarkable slight of hand that caused ructions within the Feds and led to the eventual arrest and conviction of John Connolly.
But Whitey was not only involved in drug-running and racketeering. He was also responsible for gathering weapons for the IRA in partnership with Patrick Nee, an Irish-born Boston mobster. In 1984, the Valhalla, a trawler set for Ireland, was loaded with "91 rifles, 8 submachine guns, 13 shotguns, 51 handguns, 11 bullet-proof vests, 70,000 rounds of ammunition, plus an array of hand grenades and rocket heads." The Valhalla met with the Marita Ann, a Kerry boat, and the weapons were transferred. Unfortunately, the entire operation was compromised by an IRA informer, Sean O'Callaghan, and the shipment was seized by the Irish Free State forces with the IRA members on board all arrested. Although Whitey Bulger was later implicated in the gun smuggling, he was again protected by Connolly and never arrested. Some sources had suggested that Bulger himself was also responsible for tipping off the authorities about the shipment once he had received payment for the weapons, but this seems unlikely as he had previously successfully sent explosives to the IRA and was the one, with Patrick Nee, who gathered the money to pay for the shipment in the first place.
Whitey's charmed life was about to come to an end though. Connolly had over-reached on too many occasions and both Bulger and Flemmi were continually blatant about the help they were receiving, often goading the authorities. It all came to an end in 1994 when a media investigation into Bulger's activities forced the hand of the authorities, including the FBI. Connolly tipped off his friend and co-conspirator, and Bulger fled. Flemmi was not so lucky (although Bulger had warned him what was coming) and was immediately arrested.
It was on 23rd December, 1994, that Bulger left Boston and went into hiding. He remained at large for 16 years, being second on the FBI's most wanted list to Osama bin Laden for 12 of them. He was eventually captured in Santa Moncia, California on 22nd June, 2011, with his long-time girlfriend, Catherine Greig. He was 81 years old. Whitey Bulger was tried and found guilty of multiple offences including racketeering, money-laundering, extortion, weapons charges and complicity in 19 murders. He was found guilty of 31 out of 32 counts and sentenced to two consecutive life sentences (plus 5 years). Rebel Voice is unsure how exactly he was expected to serve out his full sentence other than preserving his head in a jar and keeping his brain alive.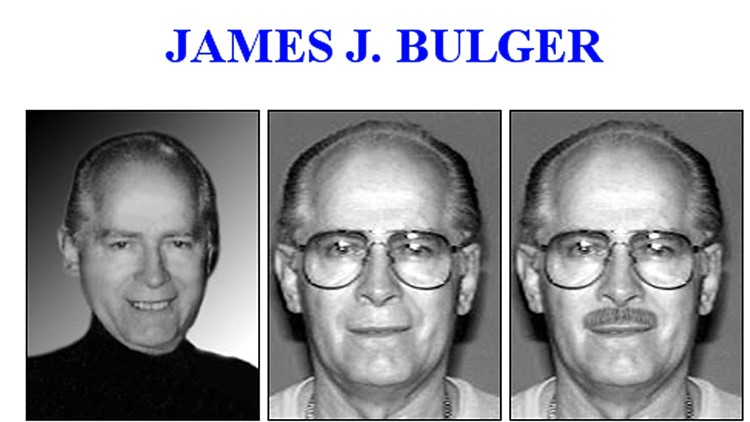 Photos from FBI most wanted list
Having been transferred to several Federal facilities, Bulger was eventually moved to Hazelton in West Virginia. It was there, on 30th October, 2018, at the age of 89, that Bulger (then in a wheelchair) was murdered by inmates. He was savagely beaten and stabbed, allegedly by an (inbred?) Italian Mafia hit-man from Massachusetts.
Whitey Bulger's funeral was held on 8th November, 2018, at Saint Monica's Catholic Church in South Boston. Those attending included his brother, William Bulger, and Catherine Greig's twin sister. He is buried at Saint Joseph's cemetery, in the Boston neighbourhood of West Roxbury in a family plot inscribed with the names of his parents.
Having read Black Mass, it can be said with confidence that Whitey Bulger was not a good man. He was raised in a rough and tough neighbourhood with little opportunity and he took one road to find his fortune. There were others available. He participated in the murder of innocent people, including girlfriends of Stevie Flemmi. He bullied and stole and robbed and plotted and schemed. But when looking at such a man, it may be of interest to see if there are factors that might have influenced such an apparently cold-hearted and ruthless individual.
Whitey Bulger had one son, Douglas Glenn Cyr, born in 1967. At six years of age Douglas died from Reye Syndrome, having had an allergic reaction to an aspirin injection. Douglas's mother, Lindsey Cyr, later recalled,
"An absolute nightmare, and it was very difficult for Jimmy because, no matter what, there was nothing that could save this. Money didn't matter, his power didn't matter. … I remember that we were walking out of the hospital the night that he died, and he was holding my hand. And Jimmy said, "I'm never going to hurt like this again."
Did Bulger become even more hardened after the death of his young son? Is that what pushed him into evermore brutal activities? We may never know. Regardless of his motivations, Whitey Bulger has managed to achieve what few in life ever do, immortality. As his recognition was through infamy, most may perhaps state that it was a price not worth paying. He will be remembered on both the silver screen and the streets of Southie for all the wrong reasons.
Black Mass is a comprehensive account of the exciting life and downfall of one of the most enigmatic of the many gangsters that made their way in the United States of America. His connections with the FBI are explored in great detail and it makes for fascinating reading. One note of caution, however. The authors of this books are both journalists in Boston. Although well respected (O'Neill is a Pulitzer Prize winner), and with much local knowledge, there may be an element of bias against Bulger in the telling of this tale. It's subtle, but Rebel Voice believes that it's there. Given Bulger's undoubted brutality, perhaps it deserved, but is still worth taking into account.
Black Mass is a good read for all fans of true crimes. It has the hint of a work of fiction, such was the astounding relationship between Bulger and the FBI. It also provides some great insight into that area of Boston known as Southie, long a refuge for Irish immigrants who fled poverty and oppression in their homeland, a nation Bulger visited on occasion. If you're Irish, then maybe that old white-haired guy from the US who aggressively pushed in front of you in the pub was none other than Whitey Bulger. Or perhaps he was just a dick with no manners and a thirst for stout. You may never know.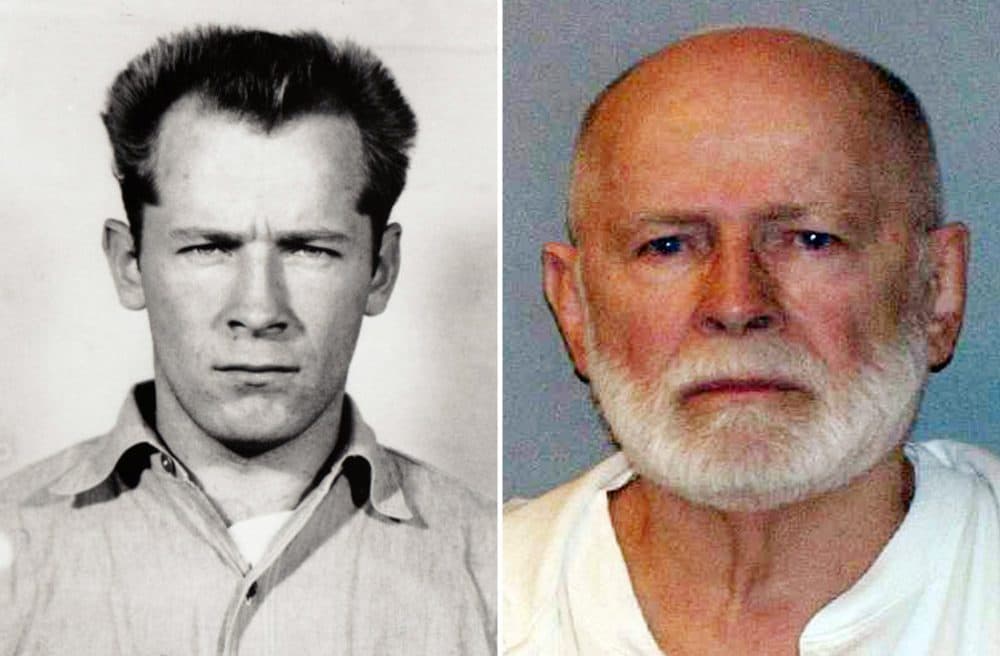 Sult scale rating: 8 out of 10. This is a very informative book that stretches over decades. After reading this you will be left in no doubt that sometimes the authorities are as bad, and perhaps even worse, than the criminals they claim to pursue. For the gritty and true story of Whitey Bulger, go no further than Black Mass.
(195)
Enjoyed this? Please share